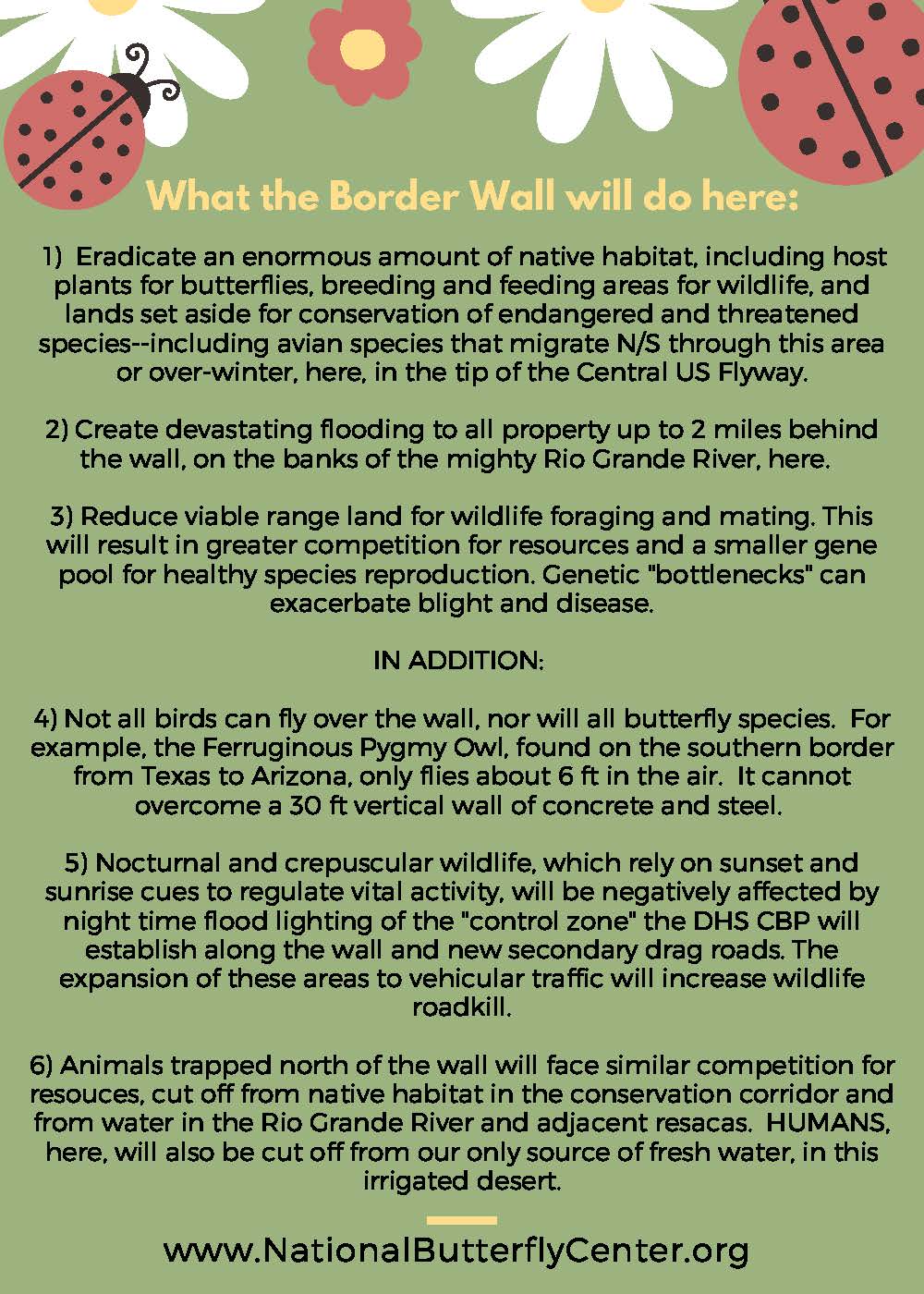 1) Eradicate an enormous amount of native habitat, including host plants for butterflies, breeding and feeding areas for wildlife, and lands set aside for conservation of endangered and threatened species-- including avian species that migrate N/S through this area or over-winter, here, in the tip of the Central US Flyway.

2) Create devastating flooding to all property up to 2 miles behind the wall, on the banks of the mighty Rio Grande River, here.

3) Reduce viable range land for wildlife foraging and mating. This will result in greater competition for resources and a smaller gene pool for healthy species reproduction. Genetic "bottlenecks" can exacerbate blight and disease.

IN ADDITION:

4) Not all birds can fly over the wall, nor will all butterfly species. For example, the Ferruginous Pygmy Owl, found on the southern border from Texas to Arizona, only flies about 6 ft in the air. It cannot overcome a 30 ft vertical wall of concrete and steel.

5) Nocturnal and crepuscular wildlife, which rely on sunset and sunrise cues to regulate vital activity, will be negatively affected by night time flood lighting of the "control zone" the DHS CBP will establish along the wall and new secondary drag roads. The expansion of these areas to vehicular traffic will increase wildlife roadkill.

6) Animals trapped north of the wall will face similar competition for resources, cut off from native habitat in the conservation corridor and from water in the Rio Grande River and adjacent resacas. HUMANS, here, will also be cut off from our only source of fresh water, in this irrigated desert.
CLICK IMAGE TO DOWNLOAD
---
The National Butterfly Center, in Mission, Texas, serves as the backdrop for a portion of this insightful documentary of wild butterflies, filmed by Peabody Award-winning cinematographer Ann Johnson Prum, who recently won the Emmy for Best Cinematography in Documentary for her production of Super Hummingbirds, also for PBS' NATURE.
We were privileged and honored to host Prum and Coneflower Studios, last fall, and anxiously await the release of what promises to be a powerful and intriguing examination of the biology and behavior of butterflies that few have ever seen!
Watch the trailer, here.
---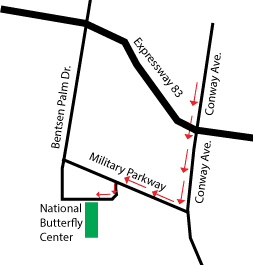 You never know what you'll see at the National Butterfly Center!
Did you know nearly 150 species of North American butterflies can be seen only in the Lower Rio Grande Valley (LRGV) of Texas, or by traveling to Mexico?
In fact, more than 300 species of butterflies may be found in the LRGV, and more than 200 species have been seen at the National Butterfly Center, including a number of rarities and U.S. Records!
Incredibly, almost 40% of the 700+ butterflies that can be found in the United States can be seen in this three-county area at the southernmost tip of Texas, where the subtropical climate makes it possible to enjoy the outdoors year 'round.
---
Peace, Love, Butterflies
Ten years ago, the North American Butterfly Association broke ground for what has now become the largest native plant botanical garden in the United States.
This 100-acre preserve is home to Spike (who thinks he is a butterfly) and the greatest volume and variety of wild, free-flying butterflies in the nation. In fact,
USA Today
calls the
National Butterfly Center
, in Mission, Texas,
"the butterfly capitol of the USA."
Buy your bumper sticker here.
---
Experience the National Butterfly Center
A flagship project of the North American Butterfly Association, the NBC is committed to 'Growing Connections' between people, plants, and the winged wonders that pollinate and propagate all that grows around us. We do this through educational and environmental initiatives that cultivate meaningful understanding of the parties and processes that create beneficial and sustainable ecosystems.
The Center showcases live animals and plants, in wild and cultivated settings, with educational exhibits to enhance human understanding and appreciation. This large-scale project is designed to ensure our beautiful landscape and the wildlife we take for granted will be here for future generations to enjoy. In addition to the ever-growing gardens and trails, the Center now boasts an impressive, new Visitor's Pavilion, designed by Wendy Evans Joseph, principal architect of the Holocaust Museum in Washington, DC, and the Women's Museum in Dallas, Texas.
Located in Mission, Texas, near the Rio Grande River, and only 15 minutes from a major airport in McAllen, The Center is open to the public, for visitors and members, seven days/week.